Kaspersky Antivirus 2011 is one of the
best antivirus
software, from Kaspersky test usually always ranked at the top. Various features are provided in this 2011 version includes some additional features from previous editions.
As one of the media campaign, in partnership with Kaspersky Lab Southeast Asia, airasiamegastore.com provide free licenses KAV 2011 for its members (or so members) are valid for 6 months.
Kaspersky Antivirus 2011 provides protection for computer users from viruses, trojans, rookits, bots, phishing, spyware and other threats that are known or not.
2011 The new version adds features such as System Watcher, Heuristic-based analysis and also monitors the Windows desktop gadget for quick access KAV 2011 and other features.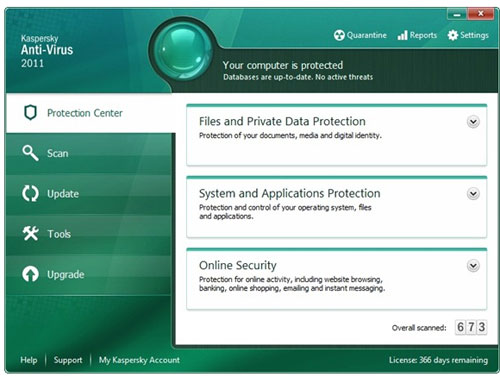 Some of Kaspersky Antivirus 2011 features among others:
* Real time protection
* Proactive Defense
* System Watcher
* Windows Gadgets
* Virtual Keyboard
* Privacy Cleaner – Clean IE history, cookies, ogs, prefetch and other
* Vulnerability Scanner – will scan the exploit other alikasi
* Rescue Disk
* Quarantine and Exclusions
* Scheduler, an option to schedule a scan time
* Automatic or Manual Update
Kaspersky Antivirus 2011 usually costing $ 39.95 for each license, but as part of a promotion, we can get a free (valid for 6 months). Do the following:
To become a member visit the registration page. This step may not be necessary if the second step we automatically registered (direct step 2)
Visit the promotions page KAV 2011 http://www.antivirus365.net/airasia/
Enter Full Name and Email, then click the Step 1. Redeem
License code will be sent within 24 hours
Download KAV 2011 with a visit the link above, then click Step 2. Download (or it seems there is a link in an email downloadny)
Install KAV 2011 and use the received license code to activate
Terms, Conditions and Notes
There are a few terms, conditions or entry when using KAV 2011 edition of this promotion. Like for example:
Install KAV 2011 when it received the license code
License 6 months is only applicable to users who do not use KAV 30-day trial version. In other words, if we are using the trial version 30 days, then can not use this promotional edition
Select Activate Commercial Version when the installation process to enter the license code
Kaspersky Antivirus 2011 can run on Windows XP Home / Professional (SP 2 or above, minimum Intel Pentium 500 MHz and 512 MB RAM), Windows Vista, Windows 7 (Starter, Basic, Home, Professional and Permium). For Windows Vista and 7 at least 1 GHz CPU and 1 GB of RAM (32 bit) or 2 GB (for 64bit). To Netbook, Intel Atom CPU at least 1:33 MHz, RAM 1 GB.